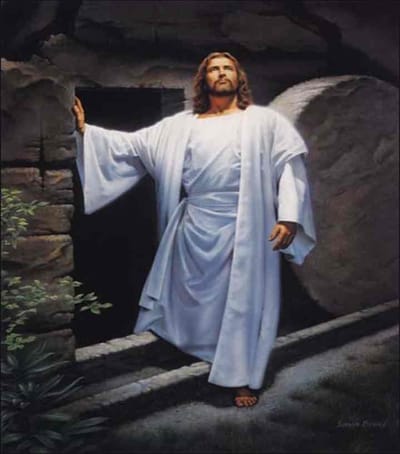 God said, Let Us [Father, Son, and Holy Spirit] make mankind in Our image, after Our likeness, and let them have complete authority over the fish of the sea, the birds of the air, the [tame] beasts, and over all of the earth, and over everything that creeps upon the earth. [Genesis 1:26 (original Amplified)]
Then the Lord God formed man from the dust of the ground and breathed into his nostrils the breath or spirit of life, and man became a living being. [Genesis 2:7 (original Amplified)]
Know and understand that it is [really] the people [who live] by faith who are [the true] sons of Abraham. 8 And the Scripture, foreseeing that God would justify (declare righteous, put in right standing with Himself) the Gentiles in consequence of faith, proclaimed the Gospel [foretelling the glad tidings of a Savior long beforehand] to Abraham in the promise, saying, In you shall all the nations [of the earth] be blessed. [Galatians 3:7-8 (original Amplified)]
And not only the creation, but we ourselves too, who have and enjoy the firstfruits of the [Holy] Spirit [a foretaste of the blissful things to come] groan inwardly as we wait for the redemption of our bodies [from sensuality and the grave, which will reveal our adoption (our manifestation as God's sons). [Romans 8:23 (original Amplified)]
But now that the faith has come, we are no longer under a trainer (the guardian of our childhood). 26 For in Christ Jesus you are all sons of God through faith. 27 For as many [of you] as were baptized into Christ [into a spiritual union and communion with Christ, the Anointed One, the Messiah] have put on (clothed yourselves with) Christ. 28 There is [now no distinction] neither Jew nor Greek, there is neither slave nor free, there is not male and female; for you are all one in Christ Jesus. 29 And if you belong to Christ [are in Him Who is Abraham's Seed], then you are Abraham's offspring and [spiritual] heirs according to promise. [Galatians 3:25-29 (original Amplified)]
And because you [really] are [His] sons, God has sent the [Holy] Spirit of His Son into our hearts, crying, Abba (Father)! Father! 7 Therefore, you are no longer a slave (bond servant) but a son; and if a son, then [it follows that you are] an heir by the aid of God, through Christ. [Galatians 4:6-7 (original Amplified)]
And He said to them, I saw Satan falling like a lightning [flash] from heaven. 19 Behold! I have given you authority and power to trample upon serpents and scorpions, and [physical and mental strength and ability] over all the power that the enemy [possesses]; and nothing shall in any way harm you. 20 Nevertheless, do not rejoice at this, that the spirits are subject to you, but rejoice that your names are enrolled in heaven. [Luke 10:18-20 (original Amplified)]
So if you have accepted and received Gods free gift of salvation by faith [only offered through His Firstborn Son Jesus], then you are (in fact) a child of The Living God! If not, you are merely one of His intended sons [waiting on your freewill decision to change your mind and direction for the better].
For all who are led by the Spirit of God are sons of God. 15 For [the Spirit which] you have now received [is] not a spirit of slavery to put you once more in bondage to fear, but you have received the Spirit of adoption [the Spirit producing sonship] in [the bliss of] which we cry, Abba (Father)! Father! 16 The Spirit Himself [thus] testifies together with our own spirit, [assuring us] that we are children of God. 17 And if we are [His] children, then we are [His] heirs also: heirs of God and fellow heirs with Christ [sharing His inheritance with Him]; only we must share His suffering if we are to share His glory. 18 [But what of that?] For I consider that the sufferings of this present time (this present life) are not worth being compared with the glory that is about to be revealed to us and for us and conferred on us! [Romans 8:14-18 (original Amplified)]
Yes, Satan stole us from our Dad [Who just happens to be God] but Dad wants you back but Dad will not violate your freewill so even though He wants you back so badly He gave up and sacrificed His Firstborn Son to pay the price for your separation from Him [sin], He wants you back because you also want Him.
Know, recognize, and understand therefore that the Lord your God, He is God, the faithful God, Who keeps covenant and steadfast love and mercy with those who love Him and keep His commandments, to a thousand generations, 10 and repays those who hate Him to their face, by destroying them; He will not be slack to him who hates Him, but will requite him to his face. 11 You shall therefore keep and do the instruction, laws, and precepts which I command you this day. [Deuteronomy 7:9-11 (original Amplified)]
If you will listen diligently to the voice of the Lord your God, being watchful to do all His commandments which I command you this day, the Lord your God will set you high above all the nations of the earth. 2 And all these blessings shall come upon you and overtake you if you heed the voice of the Lord your God. 3 Blessed shall you be in the city and blessed shall you be in the field. 4 Blessed shall be the fruit of your body and the fruit of your ground and the fruit of your beasts, the increase of your cattle and the young of your flock. 5 Blessed shall be your basket and your kneading trough. 6 Blessed shall you be when you come in and blessed shall you be when you go out. 7 The Lord shall cause your enemies who rise up against you to be defeated before your face; they shall come out against you one way and flee before you seven ways. 8 The Lord shall command the blessing upon you in your storehouse and in all that you undertake. And He will bless you in the land which the Lord your God gives you. 9 The Lord will establish you as a people holy to Himself, as He has sworn to you, if you keep the commandments of the Lord your God and walk in His ways. 10 And all people of the earth shall see that you are called by the name [and in the presence of] the Lord, and they shall be afraid of you. 11 And the Lord shall make you have a surplus of prosperity, through the fruit of your body, of your livestock, and of your ground, in the land which the Lord swore to your fathers to give you. 12 The Lord shall open to you His good treasury, the heavens, to give the rain of your land in its season and to bless all the work of your hands; and you shall lend to many nations, but you shall not borrow. 13 And the Lord shall make you the head, and not the tail; and you shall be above only, and you shall not be beneath, if you heed the commandments of the Lord your God which I command you this day and are watchful to do them. 14 And you shall not turn aside from any of the words which I command you this day, to the right hand or to the left, to go after other gods to serve them. [Deuteronomy 28:1-14 (original Amplified)]
Because you have made the Lord your refuge, and the Most High your dwelling place, 10 there shall no evil befall you, nor any plague or calamity come near your tent. 11 For He will give His angels [especial] charge over you to accompany and defend and preserve you in all your ways [of obedience and service]. 12 They shall bear you up on their hands, lest you dash your foot against a stone. 13 You shall tread upon the lion and adder; the young lion and the serpent shall you trample under foot. 14 Because he has set his love upon Me, therefore will I deliver him; I will set him on high, because he knows and understands My name [has a personal knowledge of My mercy, love and kindness—trusts and relies on Me, knowing I will never forsake him, no, never]. [Psalm 91:9-14 (original Amplified)]
For You did form my inward parts; You did knit me together in my mother's womb. 14 I will confess and praise You for You are fearful and wonderful and for the awful wonder of my birth! Wonderful are Your works, and that my inner self knows right well. 15 My frame was not hidden from You when I was being formed in secret [and] intricately and curiously wrought [as if embroidered with various colors] in the depths of the earth [a region of darkness and mystery]. 16 Your eyes saw my unformed substance, and in Your book all the days [of my life] were written before ever they took shape, when as yet there was none of them. 17 How precious and weighty also are Your thoughts to me, O God! How vast is the sum of them! 18 If I could count them, they would be more in number than the sand. When I awoke, [could I count to the end] I would still be with You. [Psalm 139:13-18 (original Amplified)]
The Lord God is my Strength, my personal bravery, and my invincible army; He makes my feet like hinds' feet and will make me to walk [not stand still in terror, but to walk] and make [spiritual] progress upon my high places [of trouble, suffering, or responsibility]! [Habakkuk 3:19 (original Amplified)]
Then Jesus said to His disciples, If anyone desires to be My disciple, let him deny himself [disregard, lose sight of, and forget himself and his own interests] and take up his cross and follow Me [cleave steadfastly to Me, conform wholly to My example in living and, if need be, in dying, also]. [Mathew 16:24 (original Amplified)]
He who believes in Him [who clings to, trusts in, relies on Him] is not judged [he who trusts in Him never comes up for judgment; for him there is no rejection, no condemnation—he incurs no damnation]; but he who does not believe (cleave to, rely on, trust in Him) is judged already [he has already been convicted and has already received his sentence] because he has not believed in and trusted in the name of the only begotten Son of God. [He is condemned for refusing to let his trust rest in Christ's name.] [John 3:18 (original Amplified)]
And Jesus said to them, I assure you, most solemnly I tell you, you cannot have any life in you unless you eat the flesh of the Son of Man and drink His blood [unless you appropriate His life and the saving merit of His blood]. 54 He who feeds on My flesh and drinks My blood has (possesses now) eternal life, and I will raise him up [from the dead] on the last day. 55 For My flesh is true and genuine food, and My blood is true and genuine drink. 56 He who feeds on My flesh and drinks My blood dwells continually in Me, and I [in like manner dwell continually] in him. [John 6:53-56 (original Amplified)]
It is the Spirit Who gives life [He is the Life-giver]; the flesh conveys no benefit whatever [there is no profit in it]. The words (truths) that I have been speaking to you are spirit and life. [John 6:63 (original Amplified)]
Jesus said to them, If God were your Father, you would love Me and respect Me and welcome Me gladly, for I proceeded (came forth) from God [out of His very presence]. I did not even come on My own authority or of My own accord (as self-appointed); but He sent Me. 43 Why do you misunderstand what I say? It is because you are unable to hear what I am saying. [You cannot bear to listen to My message; your ears are shut to my teaching.] 44 You are of your father, the devil, and it is your will to practice the lusts and gratify the desires [which are characteristic] of your father. He was a murderer from the beginning and does not stand in the truth, because there is no truth in him, he speaks what is natural to him, for he is a liar [himself] and the father of lies and of all that is false. 45 But because I speak the truth, you do not believe Me [do not trust Me, do not rely on Me, or adhere to Me]. [John 8:42-45 (original Amplified)]
And I know that His commandment is (means) eternal life. So whatever I speak, I am saying [exactly] what My Father has told Me to say and in accordance with His instructions. [John 12:50 (original Amplified)]
But you shall receive power (ability, efficiency, and might) when the Holy Spirit has come upon you, and you shall be My witnesses in Jerusalem and all Judea and Samaria and to the ends (the very bounds) of the earth. 9 And when He had said this, even as they were looking [at Him], He was caught up and a cloud received and carried Him away out of their sight. [Acts 1:8-9 (original Amplified)]
Therefore, [inheriting] the promise is the outcome of faith and depends [entirely] on faith, in order that it might be given as an act of grace (unmerited favor), to make it stable and valid and guaranteed to all his descendants—not only to the devotees and adherents of the Law, but also to those who share the faith of Abraham, who is [thus] the father of us all. [Romans 4:16 (original Amplified)]
Do not be conformed to this world (this age), [fashioned after and adapted to its external, superficial customs], but be transformed (changed) by the [entire] renewal of your mind [by its new ideals and its new attitude], so that you may prove [for yourselves] what is the good and acceptable and perfect will of God, even the thing which is good and acceptable and perfect [in His sight for you]. [Romans 12:2 (original Amplified)]
For the story and message of the cross is sheer absurdity and folly to those who are perishing and on their way to perdition, but to us who are being saved it is the [manifestation of] the power of God. [I Corinthians 1:18 (original Amplified)]
Now we have not received the spirit [that belongs to] the world, but the [Holy] Spirit Who is from God, [given to us] that we might realize and comprehend and appreciate the gifts [of divine favor and blessing so freely and lavishly] bestowed on us by God. 13 And we are setting these truths forth in words not taught by human wisdom but taught by the [Holy] Spirit, combining and interpreting spiritual truths with spiritual language [to those who possess the Holy Spirit]. [1 Corinthians 2:13-13 (original Amplified)]
But the person who is united to the Lord becomes one spirit with Him. 18 Shun immorality and all sexual looseness [flee from impurity in thought, word, or deed]. Any other sin which a man commits is one outside the body, but he who commits sexual immorality sins against his own body. 19 Do you not know that your body is the temple (the very sanctuary) of the Holy Spirit Who lives within you, Whom you have received [as a Gift] from God? You are not your own. 20 You were bought with a price [purchased with a preciousness and paid for, made His own]. So then, honor God and bring glory to Him in your body. [I Corinthians 6:17-20 (original Amplified)]
And all of us, as with unveiled face, [because we] continued to behold [in the Word of God] as in a mirror the glory of the Lord, are constantly being transfigured into His very own image in ever increasing splendor and from one degree of glory to another; [for this comes] from the Lord [Who is] the Spirit. [2 Corinthians 3:18 (original Amplified)]
Therefore if any person is [ingrafted] in Christ (the Messiah) he is a new creation (a new creature altogether); the old [previous moral and spiritual condition] has passed away. Behold, the fresh and new has come! 18 But all things are from God, Who through Jesus Christ reconciled us to Himself [received us into favor, brought us into harmony with Himself] and gave to us the ministry of reconciliation [that by word and deed we might aim to bring others into harmony with Him]. [2 Corinthians 5:17-18 (original Amplified)]
Examine and test and evaluate your own selves to see whether you are holding to your faith and showing the proper fruits of it. Test and prove yourselves [not Christ]. Do you not yourselves realize and know [thoroughly by an ever-increasing experience] that Jesus Christ is in you—unless you are [counterfeits] disapproved on trial and rejected? 6 But I hope you will recognize and know that we are not disapproved on trial and rejected. [2 Corinthians 13:5-6]
But now that the faith has come, we are no longer under a trainer (the guardian of our childhood). 26 For in Christ Jesus you are all sons of God through faith. 27 For as many [of you] as were baptized into Christ [into a spiritual union and communion with Christ, the Anointed One, the Messiah] have put on (clothed yourselves with) Christ. 28 There is [now no distinction] neither Jew nor Greek, there is neither slave nor free, there is not male and female; for you are all one in Christ Jesus. 29 And if you belong to Christ [are in Him Who is Abraham's Seed], then you are Abraham's offspring and [spiritual] heirs according to promise. [Galatians 3:25-29 (original Amplified)]
And because you [really] are [His] sons, God has sent the [Holy] Spirit of His Son into our hearts, crying, Abba (Father)! Father! 7 Therefore, you are no longer a slave (bond servant) but a son; and if a son, then [it follows that you are] an heir by the aid of God, through Christ. [Galatians 4:6-7 (original Amplified)]
May He grant you out of the rich treasury of His glory to be strengthened and reinforced with mighty power in the inner man by the [Holy] Spirit [Himself indwelling your innermost being and personality]. 17 May Christ through your faith [actually] dwell (settle down, abide, make His permanent home) in your hearts! May you be rooted deep in love and founded securely on love, 18 that you may have the power and be strong to apprehend and grasp with all the saints [God's devoted people, the experience of that love] what is the breadth and length and height and depth [of it]; 19 [That you may really come] to know [practically, through experience for yourselves] the love of Christ, which far surpasses mere knowledge [without experience; that you may be filled [through all of your being] unto all the fullness of God [may have the richest measure of the divine Presence, and become a body wholly filled and flooded with God Himself]! 20 Now to Him Who, by (in consequence of) the [action of His] power that is at work within us, is able to [carry out His purpose and] do superabundantly, far over and above all that we [dare] ask or think [infinitely beyond our highest prayer, desires, thoughts, hopes, or dreams]-- 21 To Him be the glory in the church and in Christ Jesus throughout all generations forever and ever. Amen (so be it). [Ephesians 3:16-21 (original Amplified)]
[Not in your own strength] for it is God Who is all the while effectually at work in you [energizing and creating in you the power and desire], both to will and to work for His good pleasure and satisfaction and delight. 14 Do all things without grumbling and faultfinding and complaining [against God] and questioning and doubting [among yourselves]. [Philippians 2:13-14 (original Amplified)]
And you are in Him, made full and having come to fullness of life [in Christ you too are filled with the Godhead—Father, Son and Holy Spirit—and reach full spiritual stature]. And He is the Head of all rule and authority [of every angelic principality and power]. [Colossians 2:10 (original Amplified)]
But as the One Who called you is holy, you yourselves also be holy in all your conduct and manner of living. 16 For it is written, You shall be holy, for I am holy. [1 Peter 1:15-16 (original Amplified)]
Be well balanced (temperate, sober of mind), be vigilant and cautious at all times; for that enemy of yours, the devil, roams around like a lion roaring [in fierce hunger], seeking someone to seize upon and devour. 9 Withstand him; be firm in faith [against his onset—rooted, established, strong, immovable, and determined], knowing that the same (identical) sufferings are appointed to your brotherhood (the whole body of Christians) throughout the world. 10 And after you have suffered a little while, the God of all grace [Who imparts all blessing and favor], Who has called you to His [own] eternal glory in Christ Jesus, will Himself complete and make you what you ought to be, establish and ground you securely, and strengthen, and settle you. 11 To Him be the dominion (power, authority, rule) forever and ever. Amen (so be it). [1 Peter 5:8-11 (original Amplified)]
My little children, I write you these things so that you may not violate God's law and sin. But if anyone should sin, we have an Advocate (One Who will intercede for us) with the Father—[it is] Jesus Christ [the all] righteous [upright, just, Who conforms to the Father's will in every purpose, thought, and action]. 2 And He [that same Jesus Himself] is the propitiation (the atoning sacrifice) for our sins, and not for ours alone but also for [the sins of] the whole world. 3 And this is how we may discern [daily, by experience] that we are coming to know Him [to perceive, recognize, understand, and become better acquainted with Him]: if we keep (bear in mind, observe, practice) His teachings, (precepts, commandments). [1 John 2:1-3 (original Amplified)]
Everyone who believes (adheres to, trusts, and relies on the fact) that Jesus is the Christ (the Messiah) is a born-again child of God; and everyone who loves the Father also loves the one born of Him (His offspring). 2 By this we come to know (recognize and understand) that we love the children of God; when we love God and obey His commands (orders, charges)—[when we keep His ordinances and are mindful of His precepts and His teachings]. 3 For the [true] love of God is this: that we do His commands (keep His ordinances and are mindful of His precepts and teaching]. And these orders of His are not irksome (burdensome, oppressive or grievous). 4 For whatever is born of God is victorious over the world; and this is the victory that conquers the world, even our faith. 5 Who is it that is victorious over [that conquers] the world but he who believes that Jesus is the Son of God [who adheres to, trusts in, and relies on that fact]? 6 This is He Who came by (with) water and blood [His baptism and His death], Jesus Christ (the Messiah)—not by (in) the water only, but by (in) the water and the blood. And it is the [Holy] Spirit Who bears witness, because the [Holy] Spirit is the truth. [1 John 5:1-6 (original Amplified)]
If you are not but are interested in becoming a child of The Living God, refer to the page labeled salvation.